WAN Link Aggregation and WAN Load Balancing
Introduction
We offer a range of products and services that provide WAN Link Bonding and Intelligent WAN Load Balancing. These technologies enable organisations to maximise the performance of their WAN links, improve resilience and reduce WAN connectivity costs. Different lines types can be utilised and typical applications include WAN bandwidth aggregation, leased line bandwidth increases and backup, lines consolidation and cost reduction.
Valuable bandwidth can be used much more efficiently:
Typical applications include:
Fast Internet Access
Site-to-Site Connectivity
Bandwidth Aggregation
Bandwidth Optimisation
WAN Load Balancing
WAN Link Bonding
WAN Link and Load Balancing Hardware
Truffle Broadband Bonding Router
The Truffle Broadband Bonding Router supports aggregation of up to 12 broadband connections and is compatible with xDSL, SDSL, EFM, E1 leased
lines and similar high-speed WAN connections.
The Truffle has been developed over a period of more than 10 years to provide market leading bonding, load balancing and data aggregation capabilities.
Capable of supporting aggregated bandwidth in excess of 900Mbps the Truffle is ideal for multi-site, branch office and central site connectivity.
Load balance up to 12 WAN connections
The Truffle supports 4 WAN connections as standard and can be upgraded to support 8 or 12 WAN connections.
Leased line replacement
Truffle Server
Replace expensive leased lines using the optional 'Truffle Server' capability. This enables site to-site connectivity between remote Truffle or Truffle Lite units over VLL (Virtual Leased Line) connections.
Up to 50 remote units can be connected to a central Truffle Server, ideal for connecting branch offices to a central site location.

Leased line backup and bandwidth on demand
Again utilising the 'Truffle Server' functionality it is possible to provide 'bandwidth on demand' or backup functionality to an existing leased line for both fast Internet or site-to-site connectivity.
Large enterprise features
Router resilience
The use of multiple broadband circuits provides resilience and redundancy from network infrastructure failures. At central site locations, multiple units can be deployed to provide protection against unit failure. Industry standard VRRP protocol is used to ensure maximum system availability.

Feature rich
With advanced features that include traffic shaping, QoS (Quality of Service), data prioritisation and local and remote management the Truffle Broadband Bonding Router is suitable for use in the most complex and demanding of corporate environments.
High performance
As standard the Truffle Broadband Bonding Router delivers 300Mbps of throughput in standalone operation or 100Mbps when peered with another Truffle or Truffle Lite unit. This performance can be upgraded to provide 940Mbps throughput in standalone or 250Mbps throughput when peered in high-bandwidth network environments.
Pedigree
The Truffle condenses 10 years of research and development leadership of Internet load balancing, WAN virtualisation, WAN optimisation and broadband bonding, into a compact yet powerful Internet aggregation device with built-in Internet failover.
Broadband Bonding Subscription Service
Our Br
oadband Bonding Subscription Service enables up to eight broadband connections to be bonded together to provide increased bandwidth for Internet access, home working and other applications.
Our bonding routers support ADSL, ADSL2+, ADSL Max, SDSL and Fibre Broadband lines.
There is no need to change the existing broadband service provider and additional lines can be quickly and easily added to deliver fast, high-speed connectivity.
Designed for self-installation the routers are delivered pre-configured, just plug-in, update broadband login details and you are ready to go! Also included is a Web Portal that displays  performance information.
Typical applications
Fast Internet access
Cloud computing
VoIP
Disaster resilience
Bandwidth aggregation
Bandwidth on demand
Pricing
With low cost monthly subscriptions broadband bonding is cost-effective and easy to deploy and aggregated bandwidth speeds of up to 120Mbps are supported.
Monthly subscription payments start from just £17 + VAT per line per month and we provide a rolling monthly contract so no long-term commitment.
A two line broadband bonding service 'Installation Package' includes two routers, the first months bonding subscription, equipment configuration, Web Portal account set-up and equipment delivery. Also included is free fourteen day telephone and email support.
How does the subscription service work?
The broadband bonding subscription service uses a dedicated bonding routers on each line. These routers communicated with each other and the host system to ensure that data is transmitted over each line to maximise throughput and performance.
Installation
The system is designed for self-install and an online portal provides key performance information.
Choice
Two monthly data cap levels are available; 350GB or 'Unlimited' and these are reflected in the monthly subscription charges, £17 + VAT or £30 + VAT per line respectively.
Use existing broadband lines
Just add the service to your existing broadband connection, there is NO need to change broadband line provider.
We can provide additional broadband lines and are able to offer some great deals from a variety of broadband providers.
Please contact us for a line quotation or click on the banner below to see latest offers from Plusnet, one of our broadband partners.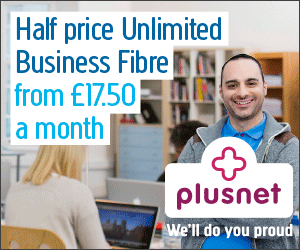 More Information